Educational Garden
A classroom garden is seen today as a didactically conditioned place of learning that promotes sustainable interdisciplinary learning and substantially contributes to environmental education with a hands-on approach for children, adolescents, and adults alike.
Currently, our educational garden is placed on the outer western edge of the garden on a 500 m² plot of land. The educational garden is under the direction of Prof. Dr. Carolin Retzlaff-Fürst of the Chair of Biology Didactics and serves for botany and environmental lessons for children's groups and school classes, as well as for garden therapy with different partner groups. Half of the garden is used as a vegetable garden and the other half serves as a 'green classroom'.
This makes the University of Rostock Botanical Garden one of the few institutions with―corresponding to its public educational mandate―an educational garden section that has continuous hands on environmental education not only for children of all ages, but also for students learning to become teachers themselves.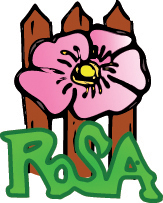 Goals of the Educational Garden
Schoolchildren living in cities don't have any possibilities to have experiences with living plants and animals and must rely on secondary sources and city green space. It is also known that with many people, both positive and negative emotions are correlated to particular plant and animal species. For example, two thirds of all youths don't feel comfortable when a beetle crawls across their hand, and plants like stinging nettle and thistles are often considered to be 'ugly'.
An educational garden furthers experience with and respect for nature for students and schoolchildren of all ages, and makes them more sensitive toward the environment. Working in the educational garden encourages evaluation, design and empowerment competencies in those who participate. In this way we hope this education contributes to the conservation of globally threatened biodiversity.